My name is Nick, I'm from Staten Island, NY and I own this 1991 MK2 Golf. It was originally the S&L Imports 1.8t orange MK2 built back in 2004. I bought it off someone back in 2011 with the intentions of enjoying a built car but that didn't last long.
Let's start from the outside – what has been done to it?
Due to bad body work and to a pre-historic shaved engine bay wiring, I got sick of dealing with the cars' issues and made the decision to start over. The car was stripped to the shell and put on a rotissory rack.
New paint work on everything inside, outside and underneath, along with a custom firewall and shaved bay.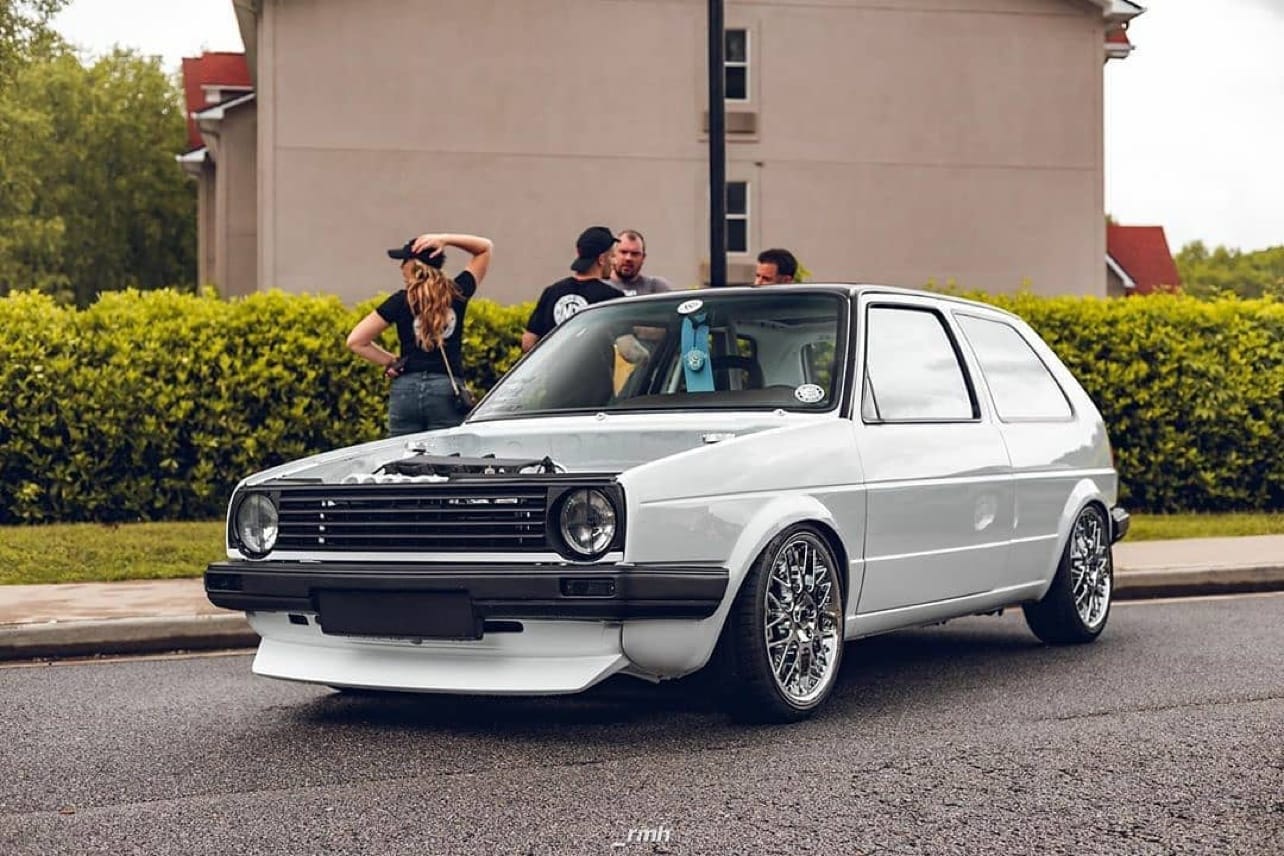 What can you tell us about those wheels?
They're a set of triple chrome plated BBS RS797.
The wheels are the one thing I needed the most time on. With everything on the car being custom, or a one-off part, I feel the wheels need to be the same in order to fit the theme of the car. I bought them so I could get as close to an idea of how I want the fitment to be, but also to buy me some time to make the proper set for the car.
What about engine mods?
The motor is a 12v VR6 with a custom ITB set up. Every component is either powder coated or chrome plated.
Endless amounts of one-off parts, tons of fabrication work done over at Swoops Built.
Wiring work done by Matt at EuroKraft Performance.
The motor modifications list can go on forever so I will let the pictures tell the story. Simplicity was definitely the goal.
And the interiors?
The interior of the car took a lot of work to make it look as simple as it does so far.
The A, B and C pillar body lines were all shaved smooth, eliminating the interior trim. The roof was cut off the car and replaced with a custom carbon fiber panel, eliminating the headliner.
The floor underneath the rear seats and the trunk section had all the body lines filled and shaved smooth, along with a custom seat delete panel.
All that's left on the interior is the dash, door cards and the front seats. Upholstery was all work by Loves Trim Shop. Center console was removed, shift box hole was welded shut, and in its place is a CAE shifter and an hydraulic hand brake.
The pedal box was removed and replaced with an over hung Wilwood hydraulic pedal set up, and it has a custom bolt-in rollcage with a B pillar mount for added strength (built by Greg over at Swoops Built).
Tell us a bit about your business
A lot of people tend to ask how the build took so long aside from the money aspect. In 2015 I quit my job and started my own business. The first few years were rough, and with the shop taking everything I had to get going, the car had to be on the back burner for a few years.
nicks-1991-vr6-itb-golf-interior-2.jpg)
I opened NBP Finishing for a lot of reasons, but mainly to give guys like me a place to go. When building a car you can't help but sub out some parts of the build. And being able to be a part of other people's builds and share their vision and help them is what it's all about.
To finish things up
This car has been nothing but work and fustration since 2011, and the build is still going to this day.
All of it wouldn't be possible without the help of my talented friends. I want to thank Tom from Espos Powdercoating, Matt from Eurokraft, Kip from Loves Trim Shop, Greg from Swoops Built, Dave from Slaw Built, Frank from Shore Polish, Miguel, and everyone els that helped along the way so far.
---
Hope you guys enjoyed yet another MK2Swag Story! Don't forget to share it with your friends, and go give Nick a follow on Instagram at @nbp_nick.
Cover photo was taken by @photography_sr.